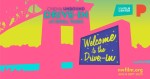 Zidell Yards
8:30pm
Thursday, August 6, 2020
–
10:00pm
Saturday, September 26, 2020
Movies will start at dusk and will feature first-run, repertoire films, and features appropriate for children and adults. We will also feature a regional short film before each feature film. Projection mapping provided by the Mobile Projection Unit and music will be provided by X-Ray FM prior to each screening. Sound will be an in-car experience, over a limited FM transmission.
All tickets and concessions will be sold online, in advance ONLY, through Northwest Film Center and Portland Art Museum's websites. Tickets are $35 per car, $45 for Trucks, Vans and SUVs, and $55 for Premium Seating.
The Zidell Yards is located at 3030 S. Moody Ave, Portland, OR 97201
All films are subject to change without notice.
Cinema Unbound Drive-In Movie Theater
Get tickets HERE! https://nwfilm.org/film-series/drive-in-at-zidell-yards/

AUGUST
Weekend 1 - Theme: ManKind
8/6 John Lewis: Good Trouble (NEW RELEASE!) dir. Dawn Porter (2020) w/ DJ Bad Wizard
8/7 John Lewis: Good Trouble (NEW RELEASE!) dir. Dawn Porter (2020) w/ DJ OG One
8/8 Moonlight dir. Barry Jenkins (2016) w/ DJ KM Fizzy

Weekend 2 - Theme: Ch, Ch, Changes
8/13 Milk dir. Gus Van Sant (2008) - w/ DJ Elizabeth Elder
8/14 Fast Times at Ridgemont High dir. Amy Heckerling (1982) w/ DJ Sundae Shoes
8/15 Do the Right Thing dir. Spike Lee (1989) w/ DJ OG One

Weekend 3 - Theme: Black Lagoons, Bowie & Badass Women
8/20 Creature From the Black Lagoon dir. Jack Arnold (1954) w/ DJ Sundae Shoes
8/21 Labyrinth dir. Jim Henson (1986) w/ DJ KM Fizzy
8/22 Knives and Skin dir. Jennifer Reeder (2019) w/ ]TBA

Weekend 4 - Theme: Living, Loving & Phoning Home
8/27 Sword of Trust dir. Lynn Shelton (2019) w/ DJ Elizabeth Elder
8/28 E.T. The Extra-Terrestrial dir. Steven Spielberg (1982) w/ DJ Bobby D
8/29 The Adventures of Priscilla, Queen of the Desert dir. Stephan Elliott (1994) w/ DJ Shi Shi

SEPTEMBER
Weekend 5 - Theme: Suntory and Sports Time
9/10 Lost in Translation dir. Sofia Coppola (2003) w/ DJ Bad Wizard
9/11 Love and Basketball dir. Gina Prince-Bythewood (2000) w/ DJ OG ONE
9/12 A League of Their Own dir. Penny Marshall (1992) w/DJ Bad Wizard

Weekend 6 - Theme: Escape & Roll Bounce
9/17 The Birds dir. Alfred Hitchcock (1963) - DJ KM Fizzy
9/18 The Great Outdoors dir. Howard Deutch (1988). DJ Elizabeth Elder
9/19 Xanadu dir. Robert Greenwald (1980) DJ Nate C

Weekend 7 - Theme: There's No Place Like Home
9/24 House Party dir. Reginald Hudlin (1990) w/ DJ OG ONE
9/25 Pee-Wee's Big Adventure (pending) dir. Tim Burton (1985) w/ DJ Kittybot
9/26 The Shining dir. Stanley Kubrick (1980) w/ DJ Nate C

*Films Subject to change

Get tickets HERE! https://nwfilm.org/film-series/drive-in-at-zidell-yards/



For up-to-date event information regarding weather and the Drive-In at Zidell Yards, please visit the event's website. Please assume the show is on unless otherwise noted.

About the Northwest Film Center: Established in 1971, the Northwest Film Center is a Portland, Oregon-based year-round organization, an extension of the Museum and space where artists and audiences explore our region and the world through cinema and cinematic storytelling in all its forms.

About PAM: Founded in late 1892, the Portland Art Museum is the seventh oldest museum in the United States and the oldest in the Pacific Northwest. The Museum is internationally recognized for its permanent collection and ambitious special exhibitions, drawn from the Museum's holdings and the world's finest public and private collections.

About Zidell Yards: Located in the heart of Portland's south waterfront district, Zidell Yards sits at the meeting point of the Portland Aerial Tram, OHSU's rapidly expanding riverfront campus, South Waterfront's residential towers, streetcar, the coming light rail, and the river.

XRAY.FM
6:00pm
Tuesday, August 18, 2020
This year marks the 100th Anniversary of passing the 19th Amendment, which guaranteed and protected women's right to vote in America.

While the 19th Amendment, which passed in August 1920, stated all women on paper, many states in our country introduced hurdles: poll taxes & literacy tests kept black voters disenfranchised, obstacles which weren't outlawed until the passage of the Voting Rights Act in August 1965.

Even now we continue to face obstructions to the right to vote. In 2020 alone we've seen polling places closed in disproportionately poor and urban neighborhoods, an attack on the Postal Service to fight Vote by Mail and continued Gerrymandering of districts to marginalize voting groups.


In Suffragette City we'll look at the history of Women and the right to vote, from the start of the Suffragette movement in 1848 to the Voting Rights Act of 1965, and into today. We also hope to entertain as we educate, tonight's program will feature empowered female musicians from Portland and beyond, as well as a digital vendor showcase.

So please stay tuned, we hope that you'll enjoy the performances, support some local businesses and please REMEMBER TO VOTE!

Join us on August 18th at 6PM on the XRAY.FM YouTube page.

Featuring female artists, DJs, musicians, writers, historians, and activists to contribute segments to our live broadcast House Show, Suffragette City, 6-9 pm on August 18th.
Music from:

KayelaJ
Mr Wrong
Nalani Proctor
Kassi Valazza
XRAY Online
7:00pm
Monday, August 31, 2020
Taking place across Portland bedrooms and living rooms, the House Show series aims to bring people virtually together during this time of social distancing and separation. As a result of Covid-19 venues have remained closed and tours have been cancelled across the country. Artists who depend on performing have been hit particularly hard, our goal is to support artists in our community as long as we are staying safe and social distancing.
Each house show begins at 7PM with two featured artists performing live from their home. Attendance is free and open to the public. Donations are encouraged, 100% of the funds raised goes towards directly supporting artists. Join us on the dates below!

Support for this series comes from The Falcon Art Community, and our media sponsor Grapevine Outdoor.
More information on how you can donate and support artists in our community HERE.

All events begin at 7PM and are streamable through:
Youtube HERE & Facebook Live HERE


Upcoming Events:
Coming Soon! - Kyle Craft
8/18 - Suffragette City House Show feat. KayelaJ, Mr. Wrong + more!
Past house show performances are available on the XRAY.FM Youtube channel here, featuring:

Fruit Bats/EDJ, AAN, Saintseneca, Faustina Masigat, Tim Perry of Ages & Ages, Black Belt Eagle Scout, Cay is Okay, Luz Elena Mendoza of Y La Bamba, Ryan Oxford, Mic Capes, Jordan Fletcher, Minority Retort Comedy Showcase, Sallie Ford, Mike Coykendall, Advance Base, Popular Music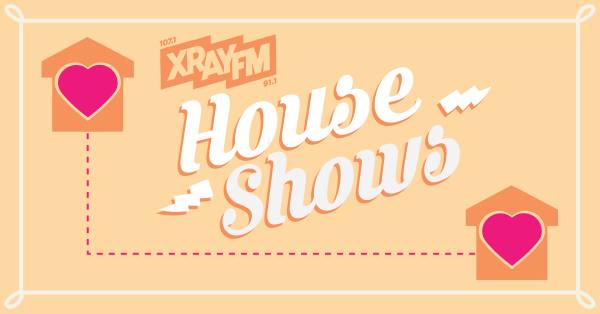 ***